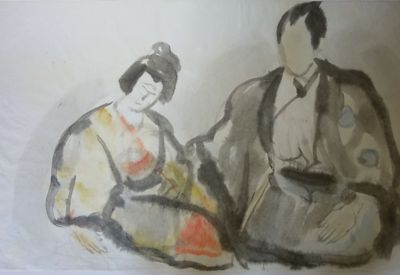 Mané Katz moved to Paris at the age of 19 to study art, although his father wanted him to be a rabbi. There he became friends with Pablo Picasso and other important artists, and was affiliated with an art movement known as the Jewish School of Paris.
In 1931, Mane-Katz's painting, "The Wailing Wall," was awarded a gold medal at the Paris World's Fair.[2] Early on, his style was classical and somber, but his palette changed in later years to bright, primary colors, with an emphasis on Jewish themes. His oils feature Hassidic characters, rabbis, Jewish musicians, beggars, yeshiva students and scenes from the East European shtetl.[3]
Mane-Katz made his first trip to Palestine in 1928, and thereafter visited the country annually. He said his real home was Paris, but his spiritual home was Eretz Yisrael, the Land of Israel.