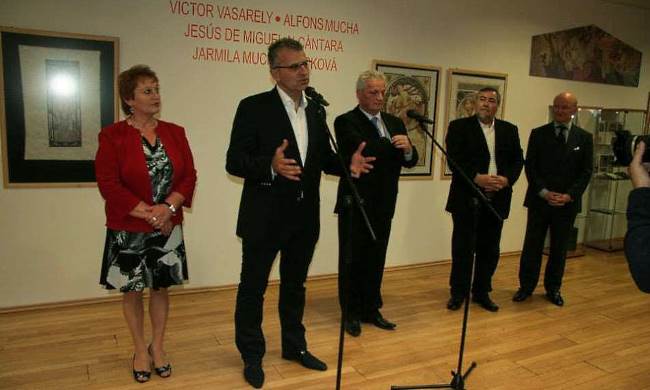 Exhibitions
2014 Gallery Marta Torres Ibiza
Biennial in The Center of Modern Art tétouan-Morocco
2014 River Art Gallery of Bratislava
2013 National Chamber of Parliament of Bratislava- Castle Bratislava-Slovakia and Gallery of The Fontana Piestani with Vasarely and Mucha
2012 Gallery Kunsthandel, Kaiblinger, Palais Harrach, Vienna
2009 art room Xikanda
Contemporary Art Museum Museum of Ceuta - Spain
2008 Art Gallery Ana Rubio.
Oropesa Castellon
The Montanya- Barcelona gallery
Valencia - gallery Corte Inglés
2007 gallery The Montanya - Barcelona
Circulo de Bellas Artes de Valencia
2006 SALA Ateneo de Valencia
L'Enforcall Room - Valencia
Barcelona Group 2005 Escolá
Gallery Salduba - Zaragoza.-Spain
Gallery Colors Sunflower - Marbella
Gallery Pablo Ruiz - Málaga
Cabin gallery Pizarro - Valencia
2004 Cabin Pizarro - Valencia
Aart Expo-Art gallery - Madrid
2003 Galeria Las Dunas - Marbella, Spain
Pizarro Gallery-Valencia-Spain
2002 Club Financiero San Miguel - Algeciras
Jose Luis Cano Foundation
Ramon Sala Puyol - Algeciras
2001 Records of L'Avenir - Valencia
2000 The News Café - Caracas - Venezuela
L.P.G. Art Gallery - Sambil
1999 Pedevesa (Petroleos de Venezuela)
Sala Pequiven
Universidad Andrés Bello
1998 Hilton Hotel Caracas - Caracas
1997 Gallery "San Marino" - Caracas
1996 Gallery "San Marino" - Caracas
1995 M.T.D. Art Gallery - Caracas
1994 Gallery GRIFFE AND SKODA - Barcelona - Spain
1993 Sala Goya - Barcelona - Venezuela
1992 Gallery Duarte - Caracas - Venezuela
1991 Gallery Duarte - Caracas - Venezuela
1990 Gallery Duarte - Caracas - Venezuela
Dimaca 1989 Art Gallery
The Basement Gallery Art
1988 Gallery Duarte - Caracas - Venezuela
1987 Gallery Duarte - Caracas - Venezuela
1986 The Basement Gallery of Art
1985 Duarte and Dimaca and The Basement Galleries
1984 Gallery Sieve De Maracaibo
Matthew Hall Manaure
Sala Luis Alfredo Lopez Mendez
Professional artist between naturalism and symbolism of the landscape. Be occupied and interested in the cognitive process of life and its mysteries to be solved by research and knowledge of myself and of others, curious compulsive, passionate thirst for life, free thinker responsible for my actions to the extent of my conscience and the laws that govern the existence, passionate lover of love in all its senses and possible manifestations. Aware of my immortal and imperishable concienciencia. Artist lover inner and outer beauty.