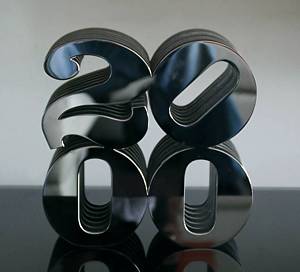 Robert Indiana
Robert Indiana, also known as Robert Clark (born September 13, 1928), is an American artist associated with the pop art movement.
Life and work
Robert Indiana was born Robert Clark in New Castle, Indiana. He spent the first 17 years of his life living in Indiana moving frequently between cities and eventually lived in 21 different homes. After his parents divorced, he relocated to Indianapolis to live with his father so he could attend Arsenal Technical High School (1942–46).
After serving for three years in the United States Army Air Forces, he studied at the Art Institute of Chicago (1949–53), the Skowhegan School of Painting and Sculpture in Maine (summer 1953) and Edinburgh University and Edinburgh College of Art (1953–54). He returned to America in 1954 and settled in New York City.[1] There he began making art with his distinctive "hard edge" style.
Indiana's work often consists of bold, simple, iconic images, especially numbers and short words like EAT, HUG, and, his best known example, LOVE. In his EAT series, the word blares in paint or light bulbs against a neutral background; he regularly paired "EAT" with "DIE".[2] In a major career milestone, the architect Philip Johnson commissioned an EAT sign for the New York State Pavilion at the 1964 New York World's Fair.[3] Other well-known works by Indiana include: his painting the unique basketball court formerly used by the Milwaukee Bucks in that city's MECCA Arena, with a large M shape taking up each half of the court;[4][5] his sculpture in the lobby of Taipei 101, called 1-0 (2002, aluminum), using multicoloured numbers to suggest the conduct of world trade and the patterns of human life;[6] and the works he created in the aftermath of the September 11, 2001 attacks and exhibited in New York in 2004 called the Peace Paintings.[7]
Between 1989 and 1994, Indiana painted a series of 18 canvases inspired by the shapes and numbers in the war motifs paintings that Marsden Hartley did in Berlin between 1913–15.[8]
Indiana has been a theatrical set and costume designer, such as the 1976 production by the Santa Fe Opera of Virgil Thomson's The Mother of Us All, based on the life of suffragist Susan B. Anthony. He was the star of Andy Warhol's film Eat (1964), which is a 45-minute film of Indiana eating a mushroom in his SoHo loft.
In 1964, Indiana moved from Coenties Slip to a five-story building at Spring Street and the Bowery. In 1969, he began renting the upstairs of the mansarded Victorian-style[2] Odd Fellows Hall named "The Star of Hope" in the island town of Vinalhaven, Maine, as a seasonal studio from the photographer Eliot Elisofon. Half a century earlier, Marsden Hartley had made his escape to the same island.[2] When Elisofon died in 1973, Indiana bought the lodge for $10,000 from his estate. He moved in full-time when he lost his lease on the Bowery in 1978.[9] Since 1978, he has lived as a resident of Vinalhaven.
LOVE
Main article: Love (sculpture)
1973 LOVE stamp
Indiana's best known image is the word love in upper-case letters, arranged in a square with a tilted letter O. The iconography first appeared in a series of poems originally written in 1958, in which Indiana stacked LO and VE on top of one another. Then in a painting with the words "Love is God". The red/green/blue image was then created for a Christmas card for the Museum of Modern Art in 1964. It was put on an eight-cent U.S. Postal Service postage stamp in 1973, the first of their regular series of "love stamps".[10]
The first serigraph/silk screen of "Love" was printed as part of an exhibition poster for Stable Gallery in 1966 (See "Love and The American Dream: The Art of Robert Indiana", page 87). A few examples of the rare image, in bold blue and green with a red bottom announcing "Stable May 66" are known to exist. Twenty-five of these, without the red announcement, were signed and dated on the reverse by Indiana. Sculptural versions of the image have been installed at numerous American and international locations.
Ahava (אהבה "love" in Hebrew), Cor-ten steel sculpture by Robert Indiana (American), 1977, Israel Museum, Jerusalem, Israel In 1977 he created a Hebrew version with the four letter word Ahava (אהבה "love" in Hebrew) using Cor-ten steel, for the Israel Museum Art Garden in Jerusalem, Israel.
In 1995, Indiana created a "Heliotherapy Love" series of 300 silk screen prints signed and numbered by the artist, which surrounds the iconic love image in a bright yellow border. These prints are the largest official printed version of the Love image.
In 2008, Indiana created an image similar to his iconic LOVE but this time showcasing the word "HOPE", and donated all proceeds from the sale of reproductions of his image to Democrat Barack Obama's presidential campaign, raising in excess of $1,000,000. A stainless steel sculpture of HOPE was unveiled outside Denver's Pepsi Center during the 2008 Democratic National Convention. The Obama campaign sold T-shirts, pins, bumper stickers, posters, pins and other items adorned with HOPE. Editions of the sculpture have been released and sold internationally and the artist himself has called HOPE "Love's close relative".[11]
For Valentine's Day 2011, Indiana created a similar variation on LOVE for Google, which was displayed in place of the search engine site's normal logo.[12]
Exhibitions
In 1962, Eleanor Ward's Stable Gallery hosted Robert Indiana's first New York solo exhibition. He has since enjoyed solo exhibitions at over 30 museums and galleries worldwide. He is currently represented by Paul Kasmin Gallery in New York and Galerie Gmurzynska in Europe.
In 2013, the Whitney Museum of American Art mounted a retrospective of his work entitled "Robert Indiana: Beyond LOVE".[13]
Collections
Indiana's career took off in the early 1960s after Alfred H. Barr, Jr., bought The American Dream, 1 for the Museum of Modern Art.[3]
Today, his works are in the permanent collections of numerous museums, including Museum of Modern Art, New York; Whitney Museum of American Art, New York; Metropolitan Museum of Art, New York; Farnsworth Art Museum and Gallery, Rockland, Maine; Stedelijk Museum, Schiedam, The Netherlands; Carnegie Institute, Pittsburgh; Delaware Art Museum, Wilmington; Detroit Institute of Art, Michigan; Baltimore Museum of Art, Maryland; Brandeis Museum, Waltham, Massachusetts; Albright-Knox Gallery, Buffalo, New York; San Francisco Museum of Modern Art, California; the Hirshhorn Museum in Washington, D.C.; Institute of Contemporary Art, University of Pennsylvania, Philadelphia, Pennsylvania; the Indianapolis Museum of Art, Indiana; and the Los Angeles County Museum, California, among many others.[14]
Art market
In May 2011, a 12-foot LOVE sculpture – one in an edition of three identical pieces – sold for $4.1 million.[2]
References
Robert Indiana MoMA, New York.
Ariella Budick (September 28, 2012), Locating love in a chilly climate Financial Times.
Jesse McKinley (September 19, 2013), An Artist's LOVE-Hate Relationship - Robert Indiana Assumes One Work Has Swamped His Career New York Times.
"Mecca: The Floor That Made Milwaukee Famous" . Grantland. July 11, 2014. Retrieved July 13, 2014.
"Milwaukee Bucks Unveil New Court Design" . NBA.com. September 24, 2013. Retrieved November 3, 2013.
Publicly posted material, Floor 89, Taipei 101. 2007-08-17.
New York Times May 21, 2004: "ART IN REVIEW: "Robert Indiana – Peace Paintings Glueck, Grace (August 27, 1999). "Robert Indiana's Career: Love and American Style". The New York Times. Retrieved 2014-09-12. "Between 1989 and 1994, Mr. Indiana painted a series of 18 canvases inspired by the shapes and numbers in the war motifs paintings that Hartley—who once worked in Vinalhaven—did in Berlin between 1913-15. They commemorate a slain German officer the artist had befriended."
David Colman (February 6, 2003), Mr. Love Finds an Island, If Not Entirely to Himself New York Times.
"LOVE" , Scottsdale Public Art
Associated Press article: "New Castle native Robert Indiana creates HOPE image for Obama"
Robert Indiana & Google wishes Happy Valentine's Day . English.samaylive.com. Retrieved on 2011-02-14.
http://www.nytimes.com/2013/09/27/arts/design/robert-indiana-and-beyond-love-at-the-whitney.html?_r=0
Spaightwood Galleries website: Robert Indiana page