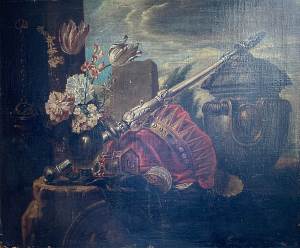 Maria van Oosterwijck, also spelled Oosterwyck, (1630–1693) was a Dutch Golden Age painter, specializing in richly detailed flower paintings and other still lifes.
Life and work:
Maria van Oosterwijck was born in 1630 in Nootdorp, a town located near Delft in South Holland, the Netherlands. Her date of birth is generally listed as 20 August, but some sources state that it was 27 August. Her father was a Dutch Reformed Church minister, as was her grandfather. Her father took her, when she was quite young, to masterful still life painter Jan Davidsz. With de Heem's influence, van Oosterwijck developed her interest in floral painting. She became his student, and she showed herself to have a talent for vividly painting realistic creations.
Van Oosterwijck initially worked in Delft and later moved to Utrecht. She worked with de Heem, and years later she produced her first professional piece which had been created independently. When de Heem moved to Antwerp, van Oosterwijck had ample opportunity for independent painting.
Art

Van Oosterwijck created floral paintings and still lifes with allegorical themes during a period in which such works were much sought after in Central Europe. She and Ruysch were judged to be the most eminent still life painters of the Low Countries. Van Oosterwijck's work, using luminous colors, is very richly detailed, sometimes demonstrating chiaroscuro techniques in her use of light and shadow. She frequently painted dark backgrounds, which resulted in increased brilliance of the foregrounds. She helped to transform the genre of the floral still life, painting realistically in a manner similar to the 16th-century Dutch trompe-l'oeil tradition.
There are very few existing pieces that have been identified as being by van Oosterwijck, most of which are florals, but Houbraken determined that she had created many other still lifes. Many of her paintings were small-format. This was often the case for artists of the time, as large pieces tended to restrict sales opportunities to wealthier clients such as churches or the state.
Source: PEOPLEPILL