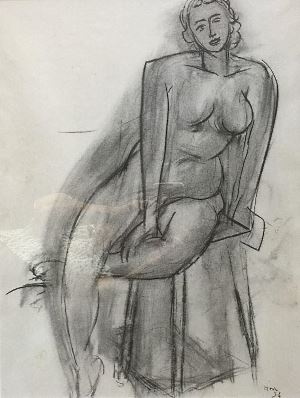 (Cateau Cambrésis, 1869 - Nice, 1954) French painter, maximum representative of Fauvism. On March 20, 1906, a new edition of the Salon of the Society of Independent Artists was inaugurated in the large greenhouses of Cours-la-Reine, in Paris. That exhibition was the first great success of Matisse and his consecration as a painter and as the visible head of a new movement.
In 1898 he traveled to London, encouraged by Camille Pissarro, and discovered the work of Joseph Turner. The works produced during those years, in which he was keenly interested in Impressionist painting, are those known as protofauvists, for the richness of their coloring and the thick impasto; They are fundamentally landscapes.
The outbreak of World War I caused the transfer of the painter and his family (he had married in 1898 with Amélie Parayre, with whom he had two children) to Collioure, where he met Juan Gris. In 1916 he spent the winter in Nice for the first time. The placidity and luxury of the Costa Azul turned out to be very to his liking and he decided to spend most of his time there. Thus began in his work a stage of intimacy, with interiors, nudes, odalisques and still lives as predominant themes.
In 1940, after the French defeat, Matisse thought about emigrating to Brazil, but finally returned to Nice; in 1941 he suffered a serious intestinal disease; After his recovery, he resumed work with renewed strength. In 1944 his wife was arrested and her daughter deported; Matisse turned to his art. Once the Second World War concluded, he exhibited with Picasso at the Victoria and Albert Museum in London; Then he presented a great retrospective at the Salon d'Automne in Paris.
In the last years of his life, which happened in Nice, the acknowledgments to his work were incessant: the Lucerne Museum organizes his first great anthological exhibition, with more than three hundred works; he receives the prize of the Venice Biennial (1950); a retrospective is inaugurated at the National Museum of Tokyo (1951) and at the San Francisco Museum of Art (1952), and a museum dedicated to his work is opened in his hometown. He died on November 3, 1954 in Nice, at the age of eighty-five.
(Source: Biografías y Vidas)