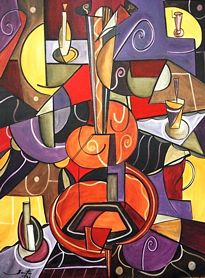 Born in Havana Cuba in 1973, Featured artist of the generation of the 90 lives alternately between the U.S. and Spain since 1994.
He started painting at a young age, and trained at the orthodoxy of the academy, developing a talent to become an artist of powerful technical execution.
The Cuban neovanguardia places it in that line that traced their predecessors without fanfare considering harmonizing colors shapes from a very personal perspective, eloquent and fearless, the message is supported by a solid performance by creating a perfect balance.
He has presented his work successfully in Cuba, United States, Chile, Argentina, Mexico, France, Italy and Spain, in various solo and group exhibitions.
On their way through the Florence Biennale in 2007, he won the critical acclaim.
His relentless pursuit led him to experiment with new techniques such as the use of Epoxy Resin as a means to obtain pictorial effects never seen before, traveling with her through different styles and achieving in all new proposals with shocking results.
In 2011, successfully presented the exhibition "Common Ground", organized by the French Union of Cuba, which had curated by Nelson Herrera Isla, Wilfredo Lam Center curator and organizer manager Havana Biennial, criticism was by the national poet and member of the award jury Cervantes, Pablo Armando Fernandez.
In 2012, conducted the project "Virgen de la Caridad del Cobre" flattered work to His Holiness Benedict XVI, the 400th anniversary of the apparition of the Virgin, which is on permanent display in the Vatican Museum.
Brief summary of exhibitions.
2013. We are Cuba, Group Exhibition, Enigma Gallery, Wynwood, USA.
2012. Project "Virgen de la Caridad del Cobre" gift to His Holiness Benedict
XVI, Private Collection, Vatican Museum.
2011. "Common Ground", Galerie Pierre Renoir, French Union of Cuba
2010. "Constructivism" Passarte Gallery, Paris France.
2009. "Still Alive" Alfaros Gallery, Miami, USA.
2008. "Strength and Sensuality" Padrón Gallery, Coral Gables, USA. Florence Biennale 2007 (Sixth Edition)
2006. "Landscapes Concrete" Passarte Gallery, Paris, France.
2005. World indoor LAN Gallery, Santiago de Chile, Chile.