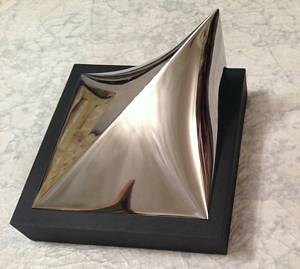 Gustavo Velez was born in 1975 (Medellin, Colombia). He began his art studies in his hometown, he continued in the Lorenzo de Medici Academy in Florence (Italy) and then completed his training in the studio in Pietrasanta (Italy).
During the past seven years the sculptural work of Gustavo Vélez, has ventured into Asia, through exhibitions and fairs. Due to the success of their samples and the talent of the artist, his name is already recognized among several Japanese, such as paintings and Genkan Promoarte Tokyo, the Ciel in Utsunomiya, the Gallery I Iwaki and Yokohama Kanagawa Museum galleries.
In the past nine years the sculptural work of Gustavo Velez has ventured into Asia. In Japan, her name is recognized among galleries and Tokyo, Utsunomiya, Iwaki and Yokohama. For two years Vélez made the Incontro Pietrasanta displayed with the Japanese sculptor Takashi Yukawa in galleries in Colombia and Japan. In 2008 he conducted an art exhibition to mark the centenary of bilateral relations between the two countries. His last solo show was in December 2012 in Tokyo Promoarte Gallery.
Similarly, in the last five years he has had shows in renowned galleries and museums in China and Korea. He has also participated as KIAF fairs (Korea) and Shanghai Art and Art Beijing (China) and Art Stage Singapore. In 2009 he made a monumental sculpture (Flying, White Marble Korean) which stood at the Valley Art Sculpture Park in Seoul (Korea).
During 2011 and 2012 more than 20 monumental sculptures in marble, bronze and steel were exposed in museums in Ecuador and Colombia: Archaeological Museum and Contemporary Guayaquil, Museum of Modern Art in Cuenca, Museum of Modern Art in Quito and Art Museum Tolima.
In the Americas, as well as individual exhibitions in Panama and Colombia, participated in fairs and group exhibitions in the United States, Mexico, Venezuela (FIA Art Fair) and the USA (Houston Fine Art Fair).
Works in public and private collections
Monumental is the last work in the Artist public space, is located in the Trump Ocean Club Panama City. It also has works in public and private collections in the Pontificia Universidad Bolivariana (Medellín-Colombia), Metro de Medellín (Colombia), Government of Tolima (Ibagué, Colombia), Museo de Arte del Tolima (Ibagué, Colombia), Hiki Hospital Utsunomiya (Japan), Akasaka Palace bldg (Tokyo-Japan), Museum of Contemporary Art in Guayaquil (Ecuador), Casa de Campo (Dominican Republic), Art Valley (Seoul, Korea), Museo Dei Bozzetti (Pietrasanta, Italy), among others.
Pietrasanta 2013
Will the young Colombian artist Gustavo Vélez, recognized internationally as the absolute protagonist of the autumn "Pietrasanta". Press Office of the Mayor of Pietrasanta.
In Europe, Gustavo has participated in art fairs such as Pinta London, the Art Swab Barcelona and Madrid. It also has an already established career as an artist 17 years present in Pietrasanta, Italian city, home to sculptors worldwide place he came to learn the techniques of carving marble.
In 2013, Velez was chosen for the solo exhibition of sculpture that is held every year on this iconic Italian city. The history of this event features artists like Igor Mitoraj, Luciano Vanji, Novello Finotti, Gio Pomodoro, Fernando Botero, Kan Yasuda, among others. With this sample, Gustavo became the youngest artist to the iconic Piazza del Duomo and the Chiesa di Sant`Agostino.
The sample Gustavo Vélez Scultore Pietrasanta 2013 featured 34 sculptures in bronze, steel and marble, among monumental and medium format parts up to 7 meters high and 8 tons.
2014
This year Gustavo participated in fairs like Art Madrid and Art Stage Singapore. Now he is preparing his two solo exhibitions in 2014, to be held at the Museo Marino Marini (Pistoia, Italy) and in the Old City and the Museum of Modern Art of Cartagena de Indias, Colombia.
Also participate in various fairs such as Art Monaco in France.
The Maestro Gustavo Vélez in 2013 received the Order of Grand Knight, awarded by the Congress of the Republic of Colombia and April 23 will be given the Order of Simon Bolivar Democracy "in the Official Cross degree for his achievements as an artist and a worthy representation he has done through his career, the Colombian culture abroad.
Later, his work will be auctioned in May by the auction house Sotheby's New York auction in Latin American Modern & Contemporary Art.