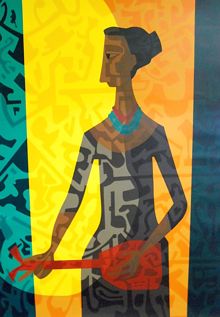 Cundo Bermudez, now considered the greatest living Cuban painter transcendence, was born in Havana, Cuba, on September 3, 1914, a turbulent period for the outbreak of the First World War.
In 1926, Bermúdez admitted to the Institute of Havana, and in 1930 enrolled at the renowned San Alejandro Academy, where he studied painting for two years. In 1934, he entered the University of Havana with the purpose of studying Diplomatic Law and Social Sciences. He graduated in 1941.
Worked, studied and painted. In 1937 he worked in Selecta magazine, founded by López Serrano, owner of bookshop La Moderna Poesia.
Cuban art is experiencing a remarkable boom in the decades of the 20, 30 and 40. Since 1927, the island is developed a special interest in modern art. That same year he founded the magazine in Havana Advance. Verbum appear later, no one looked and Silver Spur, all important. In 1944 comes the well-known art and literature magazine Origins of the Cuban labor leading intellectuals, including poet and essayist José Lezama Lima.
Along with other painters, in protest at the lack of art galleries, exhibits his work in Bermúdez trees Albear Park in 1937. There were his paintings "Dancer", "Callejas of my school," "Chloroform", "Portrait of Rafael Llerandi" and "Out of the workshop." He was the only group that later reached international prominence.
In 1938, under the auspices of the Directorate of Culture, Ministry of Education, is organizing the "National Exhibition of Painting and Sculpture" at the Castillo de la Fuerza. Bermudez has an outstanding participation.
Then he traveled to Mexico and studied at the Academia de San Carlos. He could not hide his admiration for the works of figures such as Rivera, Orozco and Siqueiros, especially those made by them before they present their political commitments through art. He became friends with Rufino Tamayo.
Later in 1940, participating in an exhibition in the Dominican Republic, and in 1941 in the Exhibition of Contemporary Cuban Art ", the Lyceum of Havana, where he sold his first painting," Two kids. " Followed in 1942 another exhibition entitled "Some Contemporary Painters" and his first solo exhibition, also at the Lyceum.
In 1943, he opens "An Exhibition of Modern Cuban Painting and Sculpture," organized by José Gómez Sicre at the Institution Hispano Cubana de Cultura in Havana. Attend Mexican David Alfaro Siqueiros and Bermudez say the following: "When did Bermúdez represents boldness in the arts. He knows how to build a synchronized manner. With deep and close-ups located in pictorial depth, in contrast, it builds and organizes sometimes almost miraculous. I think this artist has had great importance in the color range of modern Cuban painting. "
The year 1944 is crucial not only to Bermúdez, but to the Cuban painting. Opens Cuban Painting Exhibition at the Museum of Modern Art in New York (MOMA). The museum's director, Alfred H. Barr says Bermudez's work is "humorously archaic, but vigorous and original color harmonies with their cash."
The exhibit at the MOMA is the principle of international career Cundo Bermudez. At present two of his paintings, "The Balcony" and "Barbershop," are part of the museum's permanent collection.
From the second half of the decade of the 40, Bermúdez out in Kansas City, San Francisco, Palace of Fine Arts in Mexico City and the Palace of Fine Arts in Buenos Aires, until 1946.
Conducts exhibitions in Connecticut, Haiti and Havana in 1947. Exhibited in Stockholm in 1949.
His acclaimed passage through the world does not stop. He exhibited in several countries in America and Europe. Exhibitions highlighting works in the Museum of Modern Art in Paris in 1951 and in Munich in 1952.
This year is also present at the XXVI Venice Biennale with his friends and countrymen Mario Carreño, Víctor Manuel, Luis Pedro Martínez, José Mijares, Felipe Orlando, Amelia Pelaez, René Portocarrero et al. It was a great moment not only for himself but for Cuban art.
On March 6, 1952 first traveled to Europe to pass on the Old Continent two-month vacation. March 10 is produced in Cuba the coup of Fulgencio Batista, and Cundo holiday extends to nine months, during which travels through Spain, France, Belgium, Holland and Italy.
Together with a group of artists, refuses to participate in the Spanish-American Biennial II, organized by the Spanish government of Francisco Franco and supported by Batista. Subsequently, conspires against Batista next to prominent figures such as Sergio Gonzalez (The Band-Aid)
Four years later, in 1956, exhibited at the Sao Paulo Biennale and won first prize in the "International Caribbean Art" at the Museum of Art in Houston, Texas. Also in 1956, the Lyceum presents "An Itinerary by Bermúdez Cundo Painting."
With the coming to power of Fidel Castro in 1959, Cundo involved in negotiations for the release of political prisoners. Exhibits in Chile and Peru. In Chile he met with Carrillo, who lived in the South American country, and with the poet Pablo Neruda, whom he knew before. In the midst of difficulties, returns to the island.
In Cuba, like other artists, is subjected to unreasonable isolation. Journalists and intellectuals who visit the island ask for it. They replied: "When did health is a very delicate old who lives on a farm away from Havana." In fact, Cundo had little more than 40 years and was in full authority. Materials are denied work. You are not invited to national exhibitions. Pinta almost underground.
In the late 60's managed to leave Cuba for the United States. Shortly after establishing in Puerto Rico in search of the tropical sun.
In 1983 he opened his ceramic mural of the OAS in Washington DC No lies, exposed in the United States, Caracas and Rio de Janeiro.
In 1994 Sothby's auction house is honored with a tribute for his 80 years of age. In 1996 he established in Miami, where he now lives.
In 2000, the Cuban American Endowment for the Arts publishes "Cundo Bermudez, a formidable full-color book published by Vicente Baez, who had the collaboration of writers, artists and benefactors. This is a limited edition of 25 thousand copies on the life and work of Bermúdez. Has 326 pages and was made at a cost of approximately $ 250 000.