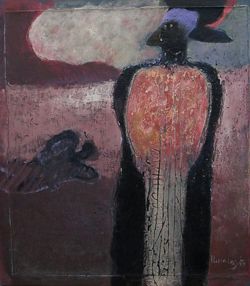 International artist and architect, Elmar René Rojas was born in the department of Sacatepequez, Guatemala in 1937. He trained at Arts at the National School of Plastic Arts of Guatemala; Pietro Vanucci School in Perugia, Italy, at the School of Decorative Arts in Paris and the Complutense University of Madrid. He was founder of the vertebra with Marco Augusto Quiroa and Roberto Cabrera. Founder addition to the Ministry of Culture of Guatemala and its prime minister. Presently living in Guatemala, and done extensive work nationally and internationally. His work has benefited museums and collections including the Metropolitan Museum in New York
international awards
1964 - American Award. Painting. Culture Contest San Salvador. El Salvador.
1970 - Latin American Award. House of Ecuadorian Culture. Quito. Ecuador.
1983 - Single Award. Mesoamerican Biennial. Museum of Contemporary Art. Panama.
1984 - Great American Award "Christopher Columbus", Madrid, Spain.
1989 - International Award "Camilo Mori". IX Biennial of Art, Valparaiso, Chile.
1991 - World Award. MAAA USA / "Top 15 Artists of the World".
1995 - Guest Artist Sotheby's auction. New York. (to date).
1995 - Guest Artist Christie's auction. New York. (to date).
Solo shows
Since 1960, when he presents his first solo exhibition in the Faculty of Architecture at the University of San Carlos, so far has done an enormous amount of personal and collective exhibitions at home and abroad.
2000 - "ART BA" (Art Fair of Buenos Aires) - International Form Gallery
2001 - "ART BA" - Gallery International Form
2002 - "ART BA" - Gallery International Form
2002 - "Expotrastiendas" (Fair of Art Galleries) - International Form Gallery
2003 - "Art Cordoba 2003" - International Form Gallery