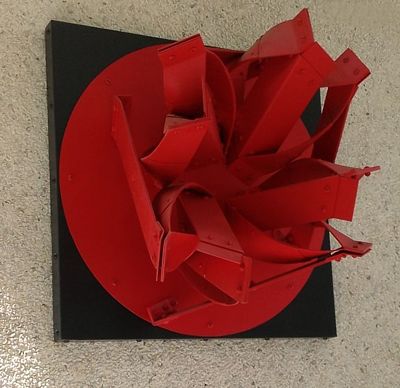 The Son Of An Aristocratic Family (His Father Was General Negret), Studied In Cali. In 1946 He Made His First Solo Exhibition In The Fifties And Lived In New York, Paris And Madrid. His Work Materials Were Very Different From The Beginning, As Included Gypsum, Ceramic, Steel And Iron, Aluminum But Later Became The Most Used. Gaudí And Brancusi Were The Most Influential Artists In Training.
Early In His Career Went Through A Semi-Figurative. It Was In The Early Years Of The 1950s When It Began To Make Abstract Sculptural Series As Their Magical Devices, Constructions Occasionally Moving Metal Parts, Which Are Evoked Complex Modern Industrial Technology. In His Creations Was Gaining Dominance Assembling Colored Bars And Plates And Fixed With Screws And Nuts.
His Distinctive Style And Creative Technique It Configured As One Of The Great Sculptors Of The Twentieth Century In Latin America. Negret Exhibited His Work At The International Exhibition In Pittsburgh, The Xxx Venice Biennale In 1960 And The São Paulo Biennial In 1957 And 1965, Among Other Competitions. Among His Works Include The Poet's Head Valencia (1944), Temple (1970), No. Negret And Navigator. 2 (1974), Dynamics (1974), Rangers (1978), Totem (1978) And Metamorphosis (1982). In The Last Stage In His Work Introduced Bright Colors Inspired Inca Motifs, As In The Series Of Cuzco Walls (Negret House, 1990).