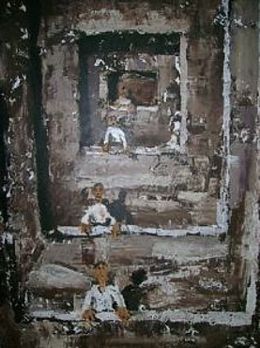 Ignacio Iturria was born in Montevideo, Uruguay, in 1949 and grew along the waterfront of the Plate River. The city's physical character and cultural spirit lingers in Iturria's art, notably with the recurrent presence of nautical scenes. The colors most associated with Iturria's work are the thick, muddy browns and earthy tones that churn through the Plate River and the southern Atlantic Ocean
IIturria returned to Uruguay in 1985 from an extended stay in Cadaqués, Spain, where he was immersed in the expressive pictorial language associated with the vibrant colors and energies of Spanish life. His art became focused more prominently on the themes of childhood memory. Exploring the subjects of everyday life around him, his painting also featured images of children's toys such as figurine soldiers. Much of Iturria's recent work reflects an interest in enhanced materiality and sculptural qualities, with large amounts of thick, tube-like portions of paint hovering on top of his canvases.
Iturria has been featured in several exhibitions in recent years and represented his country at the LVI Venice Bienale in 1995, winning the special prize "Casa di Rispario." His work has been recently exhibited at the Art Museum of the Americas in Washington D.C.; the North Dakota Museum of Art in Grand Forks and the Cultural Center of Winnipeg, Canada; the Museo de las Americas in San Juan, Puerto Rico; the Museo Nacional de Bellas Artes, Buenos Aires, Argentine, which later traveled to the Museo Rufino Tamayo in Mexico City and the Museo de Monterrey in Mexico; and the Museo de Bellas Artes in Valencia, Spain.