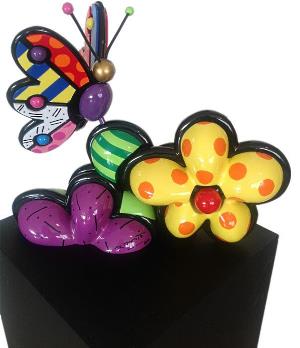 Romero is one of the most recognized Brazilian plastic artists in the world. As a painter and sculptor, his works have cubist influences, as well as pop art and street art popularly known as graffiti; he is one of the most notable contemporary examples of these popular and entrenched artistic styles.
Brazilian plastic artist; pop art, cubism and graffiti cultivator:
His works stand out for their use of vibrant colors and flashy designs that always try to convey hope and happiness. His street artworks are present in one of the largest parks in the city of London (Hyde Park), as well as in the Louvre Museum in France, a mecca of art masterpieces.
An early artist who travels the world in search of inspiration:
Britto was born in the coastal city of Recife, Brazil, on October 6, 1963, in a large yet humble family. When he was just eight years old, he began to demonstrate his artistic talent. He used hand-made items, cardboard or notebook papers, to express his artistic vision early on.
Six years later he accomplished his first exhibition of works and, incredibly, he would sell his first work to one of the most important organizations in the world: The Organization of American States (OAS).
With an adventurous and experimental desire, he traveled to Europe in search of inspiration and new directions, until he decides to settle in the city of Miami, where he resides today and where he has established his own studio.
Artistic interventions in several advertising campaigns of top brand products:
While in Miami, Britto is contacted by the business world with proposals to utilize his art in commercial advertising. He soon becomes the author of many advertising campaigns that become a success; some of his clients have included Absolut Vodka, Disney, Pepsi and IBM, matching his unique sensitivity to create art within the scope of popular culture.
SOURCES: Biografia.org