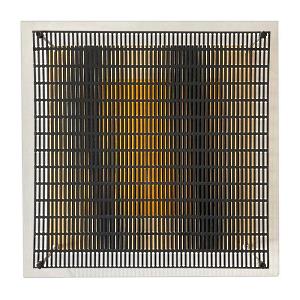 Antonio Asís was born in Buenos Aires in 1932. From 1946 to 1950 he studied at the "Prilidiano Pueyrredón" National School of Fine Arts. In 1956 he moved to Paris, where he began to investigate and study the principles of light, color, movement, and kinetic vibration found in Geometric Abstraction, and he immediately linked up with artists such as Jesús Soto, Pol Bury, Víctor Vasarely, Nicolás Schoffer, Jean Tinguely and Yaakov Agam, Horacio García Rosi, Narciso Debourg, Carlos Cruz-Diez and Darío Pérez Flores.
He explored the interaction between color and form with three-dimensional figures, incorporating cubes, spheres and spirals in his paintings to enhance the perception of movement. He co-founded Position, a group of Argentine artists based in Paris, in 1971.
Antonio Asís passed away in Paris, France, in April 2019.
Source: FADLA