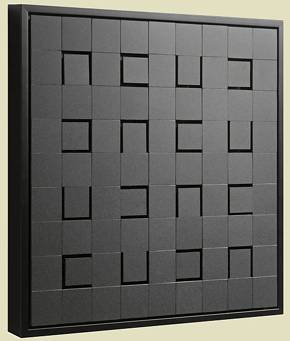 (Argentina b. 1915)
The shape gives rise to the color, which is transformed from vision into sensation; it is projected into space, where it tints the atmosphere, and becomes iridescent on touching the plane. - Luis Tomasello

For the last 50 years, Tomasello has developed a visual language that expresses movement through visual effects. By attaching angled cubes or pegs to create a repetitive pattern on a flat wood panel, the artist explores non-pictorial ways of imbuing an object with active surface play. Tomasello explores the optical effects of shapes and colors they produce on the viewer. In essence, a way of encouraging the spectator to engage with the austere physicality of his art objects.
Born to an Italian family in La Plata, a province of Buenos Aires, Luis Tomasello's first work experience was with his father, as a bricklayer, carpenter, and painter. He began his artistic studies by taking evening drawing classes as a teenager before joining the Escuela Nacional de Bellas Artes Prilidiano Pueyrredón in Buenos Aires from 1932 to 1938. Two years later, he enrolled at the Escuela Superior de Bellas Artes Ernesto de la Cárcova, where he studied until 1944. In the mid-1940s, young artists in Buenos Aires were challenging representational traditions in art; Tomasello met painters Emilio Pettoruti and Carmelo Arden Quin during this time, two important figures in the Argentine avant-garde.

After travelling to Europe in the early fifties, Tomasello finally settled in Paris in 1957 joining a large and dynamic expatriate community of Latin American artists. Having already grown familiar with Constructivism and the Bauhaus during his student days, Luis Tomasello discovered the work of Piet Mondrian while in Paris. After initially integrating typical elements of the Dutch artist's work into his own, such as the orthogonal grid, the square and a reduced palette, he was soon to move on from this form of representation. In Paris Tomasello exhibited with a group of artists whose research took them from constructivist abstraction to Kinetic Art, an art form founded on the optical illusion of movement and its effect on the viewer. He was represented by the famous avant-garde Galerie Denise René and showed at numerous national and international exhibitions of Op-Art, including the landmark show 'La Lumière et le Mouvement' (1967). During these years, Tomasello continued the exploration of the effects obtained by the reflection of light vibration of three-dimensional compositions, reduced to the essentials.
Tomasello is particularly known for his 'Atmosphères chromoplastiques' in which he places white cubes on a white background, creating an engaging optical effect of play of light and shadows. Not simply his geometrical rigour places this artist close to the Minimalists, such as Donald Judd or Sol Lewitt but their notions of the relationship between work, surroundings and viewer, the game with virtual spaces and the restriction of the artwork to the strictly phenomenological reality are all aspects that are to be found in Tomasello's work. 

Tomasello also exhibited at the Salons de Mai and the 'Realités Nouvelles' in Paris. One-man shows were held at the Museum of Buenos Aires (1962), the Musée National d'Art Moderne, Paris (1976), Museum of Contemporary Art, Madrid (1981) and at the Haus Ludwig Museum, Saarlouis (1996). As well as exhibiting extensively internationally, Tomasello has completed numerous large-scale public art commissions in Argentina, France, Mexico, and the United States. Tomasello lives and works in Paris.


Awards

2008, Gran Premio Homenaje otorgado por Banco Central de la Republica de Argentina 
2002, Ciudadano ilustre de la ciudad de La Plata, Argentina 


Public collections 

The Nelson-Atkins Museum of Art, Kansas City, Missouri Museum of Fine Arts, Houston, Texas 
Museo Nacional Centro de Arte Reina Sofia, Madrid, Spain 
Boca Raton Museum of Art, Boca Raton, Florida 
Musée d'Art Moderne de la Ville, Paris, France Centre National d'Art Contemporain, Paris, France 
Musée des Beaux-Arts, Pau, France 
Musée d'Art et Industrie, Saint-Etienne, France 
Musée Réatu, Arles, France MAC/VAL - Musée d'art contemporain du Val-de-Marne, Vitry-sur Seine, France KrMüller Museum, Otterlo, The Netherlands 
Peter Stuyvesant Foundation, Amsterdam, The Netherlands 
Museum des 20 Jahrhunderts, Vienna, Austria StMuseum Schloss Morsbroich, Leverkusen, Germany 
Museum Ritter, Waldenbuch, Germany 
Atelier de Construction Electrique, Charleroi, Belgium Galerija Suvremene Umjestnosti, Zagreb, Croatia 
Satoru Sato Art Museum, Tome, Japan 
Carnegie Institute, Pittsburg, Pennsylvania 
Albright-Knox Art Gallery, Buffalo, New York Design Unit, Chicago, Illinois 
New York University, New York, New York McCrory Corporation, New York 
Celanese Corporation, New York 
Transcontinental Gas Pipeline Company, Houston, Texas 
Power Gallery of Contemporary Art, University of Sidney, Australia 
Mueso Bolivar, Venezuela 
Museo Jesus Rafael Soto Ciudad Bolivar, Venezuela 
Museo de Artes del Siglo XX, Medellin, Colombia 
Museo de Arte Moderno, Buenos Aires, Argentina 
Museo Nacional de Bellas Artes, Buenos Aires, Argentina Fondo Nacional de las Artes, Buenos Aires, Argentina 
Museo de Lanzarote, Canary Islands, Spain 
Museo Allende, Santiago de Chile, Chile 
Museo de la Solidaridad, Managua, Nicaragua 
Museo Español de Arte Contemporaneo, Madrid, Spain 
Fonds Régional d'Art Contemporain de l'Lle-de-France, France 
Museo Wilfredo Lam, Havana, Cuba 
Museo Colección Arte Siglo XX, Alicante, Spain 
Casa de las Américas, Havana, Cuba 
Centre Georges-Pompidou, Paris, France 
Museo de Arte Contemporaneo Latino-Américano, La Plata, Argentina

Solo Exhibitions

2011, Luis Tomasello, Sicardi Gallery, Houston
2010, Reflections on Tomasello, Mayor Gallery, London
2009, Recent Work, Sicardi Gallery, Houston; Muestra Antologica, Centro Cultural Recoleta, Buenos Aires
2007, Luis Tomasello, Sicardi Gallery, Houston
2005, Luis Tomasello, Sicardi Gallery, Houston
2004, Retrospective, MACLA - Museo de Arte Contemporáneo Latinoamericano, La Plata
2003, Museo Nacional Neuquén, Argentina
2002, Museo Nacional de Bellas Artes, Buenos Aires
2001, Galerie Lavignes-Bastille, Paris, France; Galerie Schoeller, Düsseldorf, Germany 
1997, Retrospective, Homenaje a Julio Cortázar, Centro Cultural Borges, Buenos Aires, Argentina 
1990, Galerie Carlhian, Paris, France; Galerie Schoeller, Düsseldorf, Germany 
1989, Casa de las Américas, Havana
1986, Itinerant Retrospective (1957 - 1984), Sala Parpallo, Valencia, Spain; Palacio Municipal de Exposiciones Kiosco Alfonso, La Coruña, Spain; Museo de Bellas Artes, Pamplona, Spain
1985, Retrospective (1957 - 1984), Museo Español de Arte Contemporáneo, Madrid; Palau Solleric, Palma de Mallorca, Spain
1983, Di Teana et Tomasello, Espace Latino-Américain, Paris
1981, Cercle Noroit, Arras, France; Musée Réattu, Arles, France 1980, Galerie Christel, Stockholm, Sweden 
1979, Galería Edurne, Pedraza, Spain; Galerie Nouvelles Images, The Hague, The Netherlands ; Galerie Interqua, Roermond, The Netherlands 
1978, Galerie Latzer, Kreuzlingen, Switzerland 
1977, Galleria Vismara, Milan, Italy
1976, Musée d'Art Moderne de la Ville, Paris, France
Galerie d'art Les Ateliers du Grand-Hornu, Hornu, Belgium
Galerie Nouvelles Images, The Hague, The Netherlands
Galería Mestre Mateo, La Coruña, Spain
1973, Galerie Denise René, New York, New York
Galerie Françoise Mayer, Brussels, Belgium
1972, Galerie Denise René, Paris, France
Retrospective (1957-1972), Musée des Beaux Arts, Pau, France
1971, Galerie Denise René/Hans Meyer, Düsseldorf, Germany
Galleria del Cortile, Rome, Italy
1966, Galerie Denise René, Paris, France
1962, Museo Nacional de Bellas Artes, Buenos Aires, Argentina
Galerie Denise René, Paris, France
Group Exhibitions

2012, Constructed Dialogues: Concrete, Geometric and Kinetic Art from the Latin American Collection, Museum of Fine Arts, Houston, Texas; Real/Virtual, Arte Cinético argentino de los anos sesenta, Museo Nacional de Bellas Artes, Buenos Aires, Argentina 2010, Cosmopolitan Routes: Houston Collects Latin American Art, MFAH, Houston, Texas; Masters 2010, Sicardi Gallery, Houston, Texas 

2009, North Looks South: Building the Latin-American Art Collection, MFAH, Houston, Texas 2008, Geometry in Art, Emilio Caraffa Museum, Cordoba, Argentina; Galeria Hoy en el Arte, ARTEBA Art Fair, Buenos Aires 

2007, Paris du monde entier (Artistes étrangers à Paris dans la collection du Centre Georges Pompidou, 1900-2005), National Art Center, Tokyo, Japan; 30E Anniversaire du Centre National d'Art et de Culture Georges Pompidou, Musée National d'Art Moderne, Centre Georges Pompidou, Paris, France; Optic Nerve: Perceptual Art of the 1960s, Columbus Museum of Art, Columbus, Ohio; Op Art, Schirn Kunsthalle, Frankfurt, Germany; Dialogue Cinétique, Espace Meyer-Zafra, Paris, France; Lo[s] Cinetico[s], Museo Nacional Centro de Arte Reina Sofía, Madrid, Spain; Permanence de l'abstraction géométrique aux Réalités Nouvelles, Chde Tours, Tours, France; After Image: Op Art of the 1960's, Jacobson Howard Gallery, New York; Muestra Homenaje en la Fundacion Klemm, Buenos Aires; Galeria Hoy en el Arte, ARTEBA Art Fair, Buenos Aires 

2006, ArteBA 2006 - Feria de Arte Contemporáneo, La Rural, Buenos Aires, Argentina; MACLA - Museo de Arte Contemporáneo Latinoamericano, Expotrastiendas, Buenos Aires, Argentina; Géométrie en liberté, Galerie Lelia Mordoch, Paris, France; El Colectivo et ses voyageurs invités, Fondation Argentine, Paris, France; Art Basel Miami Beach, Sicardi Gallery, Miami Beach, Florida 2005, Inaugural exhibition, MAC/VAL - Musée d'Art Contemporain du Val-de-Marne, Vitry-sur-Seine, France; Art Basel Miami Beach, Sicardi Gallery, Miami Beach, Florida; ArteBA 2005 - Feria de Arte Contemporaneo, La Rural, Buenos Aires, Argentina; Homenaje al cuadrado, Palais de glace, Buenos Aires; Escultura-Objeto, Relecturas en la Coleccion del MAMBA, Museo de Arte Moderno, Buenos
Aires; Great Masters of Argentinian Painting, ARTEBA Art Fair, Buenos Aires

2004, Trama abierta, MACLA - Museo de Arte Contemporáneo Latinoamericano, La Plata, Argentina; Constelaciones, Museo Histórico Cornelio de Saavedra, Buenos Aires, Argentina 

2003, 25 Jahre Treffpunkt Kunst, Museum Haus Ludwig, Saarlouis, Germany 

2002, Works from MACLA - Museo de Arte Contemporáneo Latinoamericano, itinerant exhibition until 2005 in museums and cultural centers of the province of Buenos Aires : Junín, Rauch, Tandil, San Miguel del Monte, Benito Juárez, Laprida, Coronel Pringles, Tornquist, Coronel Suárez, Bahía Blanca, Moreno, Lobos, Zárate, Luján, Trenque Lauquen, América (Rivadavia), Pehuajó y Casbas (Guaminí) and Brandsen; ArteBA 2002 - Feria de Arte Contemporáneo, La Rural, Buenos Aires, Argentina; 50 year of Latinamerican geometric painting MACLA, Museum of Contemporary Latinamerican Art, La Plata, Argentina 

2001, Denise René, l'intrépide. Une galerie dans l'aventure de l'art abstrait. 1944-1978, Musée 
National d'art moderne, Centre Georges Pompidou, Paris, France; Galería Teresa Nachman, arteBA2001- Feria de Arte Contemporáneo, La Rural, Buenos Aires, Argentina; 50 Años de pintura geométrica latinoamericana, MACLA - Museo de Arte Contemporáneo Latinoamericano, La Plata, Argentina 

2000, Le mouvement et la lumiere, Galerie Denise René, Musée de Cambrai, France 

1999, MACLA - Museo de Arte Contemporáneo Latinoamericano, La Plata, Argentina 

1997, De l'abstraction à la Figuration, Ecole Supérieure de Commerce, Nantes, France; Homenaje a Hugo Demarco, Galerie Argentine, Paris, France, Veinte anos, La Galería, Quito, Ecuador 

1996, Cinquante ans d'art construit, Galerie Denise René, Paris, France; Made in France, Musée national d'art moderne, Centre Georges Pompidou, Paris, France; Hommage à Marcel Cahn, Galerie Faisant, Strasbourg, France 

1995, Salon Grands et Jeunes d'Aujourd'hui, Paris, France; Abstraction géométrique, abstraction lyrique, Lycée Professionnel Salvador Allende, Béthune, France 

1994, Salon Grands et Jeunes d'Aujourd'hui, Paris, France; Obras Gráficas, Galería Elvira González, Madrid, Spain; 25th anniversary of the Galerie Schoeller, Düsseldorf, Germany; Territorios, exhibition in honor of the 10th anniversary of the death of Julio Cortázar, Centre Culturel du Mexique, Paris, France 

1993, Triennale des Amériques, Maubeuge, France; Salon Grands et Jeunes d'Aujourd'hui, Paris, France; Manifeste, Musée national d'art moderne, Centre Georges Pompidou, Paris, France 

1992, Salon Grands et Jeunes d'Aujourd'hui, Paris, France; Art d'Amérique Latine 1911-1968, Musée national d'art moderne, Centre Georges Pompidou, Paris, France; L'Art en mouvement, Fondation Maeght, Saint-Paul-de-Vence, France 

1991, Salon Grands et Jeunes d'Aujourd'hui, Paris, France; Galería Theospacio, Madrid, Spain 

1990, 150e anniversaire de la naissance de Claude Monet, 50 Peintres Contemporains, Argenteuil, France; 90 Años. Una selección de pintura argentina Patio Bullrich, Buenos Aires Argentina

1989, Aventure dans l'Art, Peter Stuyvesant Foundation, ChMedoc, France; Art Construit, Lumiere, Mouvement, Galerie de la Défense, Art4, presented by Galerie Denise Rene, Paris, France; Bleu-Blanc-Rouge, Galerie Carlhian, Paris, France 

1988, Presencia internacional, Galería Theo, Madrid, Spain; 20 ans d'Art dans la ville, Vitry-sur-Seine, France; L'Art pour la Vie, Institut Curie, Ecole Nationale Supérieure des Beaux-Arts, Paris, France; L'Art contemporain, ADCA, Paris, France; Hommage aux Petits-Formats n 2, Galerie Carlhian, Paris, France 

1987, Oeuvres du FRAC lle-de-France, Le Perreaux-sur-Marne, France; Féerie cinetique, Maison de l'Amérique Latine de Monaco, Monte Carlo; Hommage aux Petits-Formats n. 1, Galerie Carlhian, Paris, France 

1986, Hommage a Julio Cortázar, Espace Latino-Américain, Paris, France; Trends in Geometric Abstract Art, Collection of Mc Crory Corporation, Tel-Aviv Museum, Israel 

1985, Pintura Latinoamericana, Galería Praxis, Buenos Aires, Argentina; Regards argentins de France, Dosne-Thiers Foundation, Paris, France; Fonds regional d'art contemporain de I'lle de France, Luxumbourg Museum, Paris, France; Juana Mordo por el Arte, Círculo de Bellas Artes, Madrid, Spain; Pintura Latinoamericana, Galeria Praxis Buenos Aires 

1984, Carte blanche à Denise René Art Center, Paris, France; Panorama Contemporáneo, Galería Theo, Madrid, Spain; Arte Contemporáneo, Asociación Canaria de Amigos del Arte Contemporáneo, Canary Islands, Spain; Artistas Latinoamericanos en Paris, Museu de Arte Contemporda Universidade de SPaulo, Brazil 

1983, La peinture contemporaine latino-américaine, Centre Culturel, Blagnac, France; La experimentación en el arte, Centro Cultural del Conde Duque, Madrid, Spain; De l'abstraction formelle au cinétisme, Cercle Noroit, Arras, France; La l'Espace Latino-Américain, Paris, France 

1982, L'Amérique Latine à Paris, Grand-Palais, Paris France; Hommage à Wilfedo Lam, Galerie Windson, Toulouse, France; L'Espace se déplace, Galerie Bellechasse, Paris, France 

1981, Peintres d'Amérique Latine, Centre Culturel Municipal, Garches, Franc; Contemporary Art in Latin America and Japan, National Museum of Art, Osaka, Japan; Livres Verlag 3, Galerie Cahiers d'Art, Paris, France; Konsekvens- Hommage a Olle Baertling (1911-1981) Liljevalchs Konsthall, Stockholm, Sweden; Chemin faisant, Centre Culturel de Villedieu, France

1980, Cent dessins d'aujourd'hui, Galerie Municipale, Vitry-sur-Seine France; 25e Salon d'art contemporain, Montrouge, France; 20th Anniversary, Galerie Nouvelles Images, The Hague, The Netherlands; 1950-1980- European Trends in Modern Art- One Hundred Paintings, presented by the Pierre Cardin Foundation in their new headquarters of New York and Brussels, Belgium; Douze membres fondateurs de l'Espace Latino-américain, Paris, France 

1979, Westdeutsche Kunstmesse, Cologne, Germany; Kunstler zeigen Kunstler, Zurich, Switzerland 

1978, Images-Messages d'Amérique Latine, Centre Culturel Municipal, Villeparisis, France; Aspects de l'art en France, Galerie Denise René, Basel Art Fair, Switzerland 

1977, Museum of Drawers, Museum Der Stadt, Solothurn, Switzerland; International Culturel Centrum, Antwerp, Belgium; Kunsthalle, Düsseldorf, Germany; Israel Museum, Jersualem, Israel

1976, Latin American Horizons-1976, Ringling Museum of Art, Sarasota, Florida; Metropolitan Museum and Art Center, Miami, Florida; Pensacola Art Center; Museum of Fine Arts, St. Petersburg; Fort Lauderdale Museum of Fine Arts, St. Petersburg; Fort Lauderdale Museum of the Arts, Florida; Movement peint-Mouvement agi, Abbaye de Beaulieu, France; Kinetic Art, Liliana Heidemberg Gallery, New York, New York 

1975, 12 Latin American Artists Today, University Art Museum, University of Texas, Austin, Texas; Noroit présente l'oeil en question, Cercle Noroit, Arras, France 1974, Festival international d'art contemporain, Royan, France; Denise René en Madrid, Galería Aele, Madrid, Spain 

1973, Espace-Couleur, Galerie Denise René, Paris, France 

1970, Art contemporain Fabre Museum, Montpellier, France; Globus International, Zurich, Switzerland; Galleria Paolo Barozzi, Venice, Italy 1969, Art Council Gallery, Belfast, Ireland; Exposition-Position, Galerie Denise René, Paris, France Salon de Mai, Musée d'Art Moderne de la Ville de Paris, France; Art et Matière, Montreal, Canada; Pollock Gallery, Toronto, Canada 

1968, L'Art Vivant, Fondation Maeght, Saint-Paul-de-Vence, France; Le Silence du Mouvement, KrMuller Museum, Otterlo, The Netherlands; From Constructivism to Kinetic Art, London Arts Gallery, Detroit, Michigan; Kinetische Kunst, Berlin, Germany 

1967, Lumire et mouvement, Musée d'Art Moderne de la Ville de Paris, France; Kinetika, Musée du XXe Siècle, Vienna, Austria; Von Konstruktivismus zur Kinetik, Galerie Denise René/Hans Mayer, Krefeld, Germany; Art et mouvement, Musée d'Art Contemporain, Montreal, Canada; L'Exposition permanente d'art expérimental, Musée de Saint-Etienne, France; De Mondrian au Cinétisme, Galerie Denise René, Paris, France 

1966, Structure et mouvement, Galerie Denise René, Paris, France; Salon Réalités Nouvelles, Paris, France 1965, Mouvement 2, Galerie Denise René, Paris, France; Muestra La Argentina en el mundo, Instituto Di Tella; The Responsive Eye, Museum of Modern Art, New York; Art Today, Albright-Knox Art Gallery, Buffalo, New York; Art et mouvement, Tel-Aviv Museum, Tel-Aviv, Israel; Mouvement, Galerie Bleue, Stockholm, Sweden; La Argentina en el Mundo, Instituto di Tella, Buenos Aires, Argentina 

1964, New Art of Argentina, Walker Art Center, Minneapolis; Akron Art Institute, Ohio; Atlanta Art Association; University Art Museum, Texas; Mouvement, Gimpel & Hanover Gallery, Zurich, Switzerland; Hanover Gallery, London, United Kingdom 

1963, Museum of Fine Arts, Houston, Texas; Galerie Nebelung, Düsseldorf, Germany; Salon Réalites Nouvelles, Paris, France; Hanover Gallery, London England; Première exposition internationale des Galeries Pilotes, Lausanne, Switzerland; Mouvement, Galleria Cadario, Milan, Italy 1961, Salon, Réalités Nouvelles, Paris, France; 20 Peintres argentins contemporains, Boulogne-sur-Mer, France; Carnegie Institute, Pittsburgh, Pennsylvania