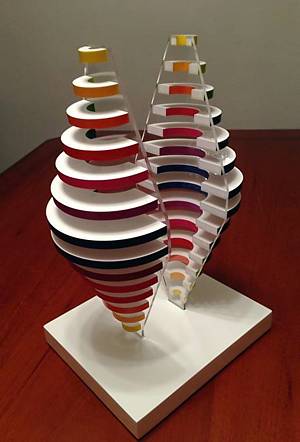 Martha Boto (December 27, 1925 - October 13, 2004) was born in Buenos Aires in a family originally from Spain. It inherits the tastes of his grandfather and his mother to the theater, art, and music. Very young she shows predisposition for drawing and painting. With the encouragement of her mother, she enrolled at the National School of Fine Arts in Buenos Aires and graduated in 1946, giving him the title of professor of drawing. The following year, she successfully manages the input to the renowned School of Fine Arts, where she expanded her knowledge contest. She graduated in 1950 and received the prestigious award graduation Ernesto de la Carcova, which recognizes the best students. Along with her training she teaches drawing and has a career as a painter. In 1947 two painting prize allotted to it, demonstrating his talent and success of his painting from his contemporaries. It is mostly landscapes captured in nature and scenes of everyday life that are intriguing, before turning to geometric abstraction in 1954 Between 1951 and 1960 eight personal exhibitions of his work. In 1956 it approaches supporters of concrete art, which declared the objective of perpetuating the forefront which was formed a few years earlier, with the Arte concreto Invención and Madi group, and integrates the association Arte Nuevo including Arden Quin was the initiator. As part of the meetings Arte Nuevo, she met Gregorio Vardanega who became his lifelong companion. His left 1957 she joined the group ANFA (Non Figurative Artists Argentines) and participates in many concrete art events. During this period she showing initial concerns relating to the area and developing its first mobile plexiglass in random motion. In 1958 she traveled to Paris, and then in 1959, she will finally established with Gregorio Vardanega. In the early sixties she joined the middle of the Galerie Denise René, who is promoting his work, both in Paris and abroad. In 1963 it uses electricity in his work and made his first kinetic works. She collaborates with the international movement New Trend in 1963 and participates in the most crucial meetings of this group, whose goal is the recognition kinetics. In 1964, his first solo exhibition in Paris is devoted to the House of Fine Arts. His famous boxes lumino-kinetic emerge from this period. Many of these works are presented in the exhibition << >> Light and motion, the Museum of Modern Art of the City of Paris in 1967 The following year she mainly produces mobile with discs of colored Plexiglas. In 1969 the Denise René gallery is organizing a major retrospective that traces his journey of kinetic artist. In the early seventies, Martha Boto performs his latest kinetic structures devoid of light, inspired by the movement of the stars. In 1972 she gradually returned to painting and more traditional sculptural forms. During the sixties and beyond, she participated in many events in France and worldwide. Even today it is represented in exhibitions devoted to geometric abstraction and kinetic art. French and foreign institutions, private and public, preserve his works. Many collectors still own and acquire his work, so as to assure him a prominent place in the art market.
In the last years of his work, painting reappears and operates undulating rhythms, graphics: series
"Cyclists"
"Games"
"Valley of the snails'
"Communications
"Vibrations"
Personal exposure
Galería Van Riel 1952, Buenos Aires, Argentina.
Galería Van Riel 1953, Buenos Aires, Argentina.
Galería Krayd 1954, Buenos Aires, Argentina.
Galería Krayd 1955, Buenos Aires, Argentina.
Galería Galatea in 1956, Buenos Aires, Argentina.
1957 estímulo de Bellas Artes, Buenos Aires, Argentina.
Galería H 1958, Buenos Aires, Argentina.
Galería H 1958, Buenos Aires, Argentina.
1964 House of Fine Arts, CROUS, Paris, France.
1969 Galerie Denise Rene, Paris, France.
1976 Centre d'Action Culturelle Gemini, Paris, France.
Area Laundry Boat 1993, Paris, France.
1996 Gallery Argentina, Paris, France.
1997 Post Office St. Lambert, Paris, France.
2006 Contact Cyber Cosmos Boto and Vardanega, Sicardi Gallery