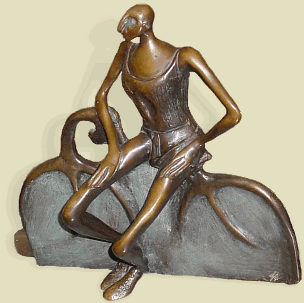 Jorge Seguí was born and studies in Argentina. Travels to Spain to extend his studies; soon it exposes in Peru, Ecuador, Colombia and Venezuela. It lives and it works in Venezuela during 20 years. Five years ago fixed its residence to Miami. He has received important international recognitions, and he is present in important fairs of art. Is represented in collections deprived in Europe, Latino America and the United States, as well as in recognized galleries and museums of Florida.
Jorge Seguí develops complex imaginer, product of his philosophical investigations on the humanity. Their sculptures raise an ideal being and phenomenal, incarnation of the masculine thing and the feminine thing in one develops mythological universal archetypes of the woman and the man in a generic sense but.
His false series heroes developed totally in Miami is an assembly where the torsos of two figures without face and sort predominate, which symbolically they are duplicated in two facets. They mount on a horse equally duplicated in two heads and two haunches. He is an unfolded being who is reflected on if same.
Jorge Seguí dominates the collapse of the faces like the symbol of the mask, obsessive element in the works of the artist.