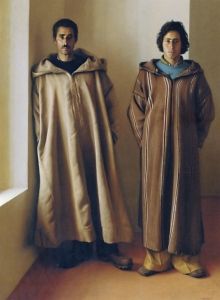 Valparaiso, 1936) Chilean painter and sculptor. Featured representative in your country of hyperrealism, his work drinks in the art supplies past and present and their work can be interpreted as transformations of Leonardo, Caravaggio and Velázquez.
Moved to James since childhood, in 1945 began his artistic training in the studio of Miguel Venegas Cifuentes. He had his first solo exhibition at seventeen in Room Thirteen of the Chilean capital. He spent a season in Santiago ballet company, with which it came to dance professionally, and at the National Theatre.
In 1959 he moved to Concepción, where he met the poet and philosopher Luis Oyarzun, which profoundly influence. Due to its success as a portraitist, soon had sufficient financial resources to purchase a plane and go with him throughout Chile. Already in the sixties he traveled to Spain and, after remaining for some time in Barcelona, he settled in Madrid.
In the Spanish capital portraiture developed and carefully studied the works of the Prado Museum, especially the collection of Italian Renaissance and Baroque masterpieces of Spanish; Velázquez and Zurbarán was the most influential authors in the development of their artistic vision . In 1963 he exhibited for the first time in Madrid, where he would continue his work exhibited throughout the seventies. In 1968 he worked for several months in the Philippines, carrying portraits of important social and political personalities.
From 1972 he lived in Tangier, Morocco, free social pressures to which he was subject in Madrid, its thematic repertoire changed drastically. In the mid eighties he moved to Manhattan, New York, and in 1981 held his first exhibition at the Marlborough Gallery, which became his sole representative, while the artist remained a life traveling between southern Chile and Tangier. In 2000 he received from the hands of the kings of Spain the Grand Cross of Alfonso X the Wise.