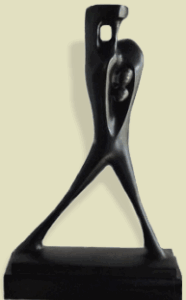 (Matanzas, Cuba 1927)

Sculptor, painter and sketcher. He studies in The academy of Beautiful Arts of San Alexander, Havana. From 1943 to 1949, he worked in the study of the sculptor Sicre, disciple of Bourdelle. In the opposition of official education it integrated theGroup of the Once, 1953 to 1956. In 1955 first individual exhibition In the Palace of Beautiful Arts of Havana, and that same year obtained a scholarship to study in Paris. Their wood sculptures stone or marble and bronzes are biforms made with great masters, reason why the intellect and the senses are stimulating.
The affinity that they felt the surrealists by his special work in the writer André Bretón, prepared the land for his first exhibition in 1956. Since then Cárdenas has exposed in many European, American and Asian Countries. In the biennial of París of 1961 it was Awarded. Cárdenas resided in Paris, from 1955, and has worked In Carrara, Italy. Exhibitions: Palace of Beautiful Arts, Havana, 1955; Galerie of the Courd d'Ingres, Paris, 1959; Galerie du Paris Dragon, 1961 and 1965; Richard Feigen Gallery, Chicago and Galleria Shwartz, Milan, 1962; Galerie Arcanes, Brucelas, 1968; Gallerie the Bussola Turin, 1969; Galerie Boulakia, París and Galleria Lorenzelli, Bergamo, 1971; Museé Galliera, Paris, 1972; Galerie Le Point cardinal, París 1973, 1975,1981.
And innumerable exhibitions in France, Brussels, Geneva, Tokyo, Madrid, Seoul, Chicago, Caracas (Durban gallery), as well as in Innumerable collective fairs of art and. You compensate: National Prize of Sculpture of Cuba, 1954; Prize of sculpture Biennial of París, 1961. Between 1956 and 1968, his to decorated with the order of the arts and the letters of France in the degree of horseman and the prize Bill and Noma Copley. His represented in public and deprived collections of Europe, America and Asia. He is represented in the collection Painting and Latin American Sculpture, MBA, Caracas.