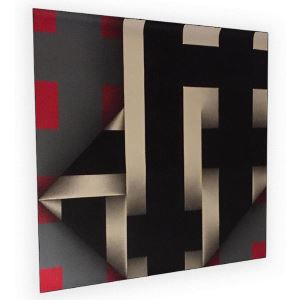 Painter, engraving artist and sculptor born in Roldanillo, Valle del Cauca, Colombia on January 20, 1928; d.o.d. June 7, 2010.
He began his artistic career as a cartoonist in 1945, in the Siloé neighborhood, drawing and illustrating for the newspapers and magazines of Cali and Bogotá. Since 1948 he exhibited several times throughout several cities of Colombia. In 1954 he began to travel through Latin America, during his studies. He lived in Mexico from 1959 to 1960 and settled in New York for approximately ten years. In 1970, he was awarded First Place at the National Hall of Artists of Colombia.
He accomplished more than 200 exhibitions in several countries around the world. His paintings often reflect a perceivable trail of an indigenous ancestry.
Rayo's works are dedicated to the geometric figure; his original style, featuring clear & concise images. It's a form of geometric-optical art that takes advantage of squares, rectangles and zigzag lines, and expresses itself throughout the use of white, black and red colors.
SELECTION OF AWARDS
1966 - XIX National Hall of Artists of Colombia, Special Prize for Engraving, Bogotá, Colombia.
1970 - First Prize in Fine Arts, XX Hall of Colombian Artists, Bogotá, Colombia.
1971 - International Prize, Biennial of São Paulo, São Paulo, Brazil.
1977-1978 - Guggenheim Scholarship, New York, N. Y., USA UU.
Sources: Omar Rayo: Homenaje, Villegas Editores. Ruiza, M., Fernández, T. y Tamaro, E. (2004). Biografia de Omar Rayo. En Biografías y Vidas. La enciclopedia biográfica en línea. Barcelona (España). Recuperado de https://www.biografiasyvidas.com/biografia/r/rayo.htm